Four potential options to build new bridges or roads to create a fixed link to the Sunshine Coast have been short listed by the B.C. government and put out for public comment.
And any one of them would come with a hefty price tag.
The province is exploring the financial and physical feasibility of new routes to shorten the current travel times by ferry to communities like Gibsons, Sechelt and Powell River.
The most direct route from the mainland to the Gibsons area – at a cost estimated at $2 to $2.5 billion – would be a pair of 1.5-kilometre suspension bridges crossing from Brunswick Point on Highway 99 to Anvil Island and then across the rest of the Howe Sound.  That's estimated to halve the travel time from Horseshoe Bay to Langdale to about 40 minutes from roughly an average of 80 minutes now by ferry.
A cheaper "Langdale Road" route at $1.5 to $2 billion would be to build 58 kilometres of new highway starting north of Squamish and running along the west side of Howe Sound to connect with the end of the Sunshine Coast road at Port Mellon.
The travel time from Horseshoe Bay by that route would be much longer – about 90 minutes – but about 45 minutes from Squamish.
Under both those scenarios the province would eliminate the existing Horseshoe Bay to Langdale ferry, but retain ferry service to Powell River at the other end of the Sunshine Coast.
The Langdale Road would effectively force all traffic to and from the Sunshine Coast to go through Squamish, adding to traffic congestion on busy sections of the Sea-to-Sky Highway.
Also under consideration is a new highway following logging roads where possible on a route from Squamish running northwest, then around the north end of Jervis Inlet and then southwest to Powell River.
The new 200-kilometre highway – costing an estimated $2.5 to $3 billion – would cut the travel time from Horseshoe Bay to Powell River to three hours of driving, down from 4.5 hours now with two ferries. Both current ferry routes would be retained.
Another option for a pair of long suspension bridges connecting Powell River to the rest of the Sunshine Coast via Nelson Island would eliminate just the Saltery Bay-Earls Cove ferry service. It would cost an estimated $1.5 to $2 billion and wouldn't end the need to take the Langdale ferry.
Other road or bridge alternatives, including a floating bridge or floating tunnel, were examined but did not make the short list.
Feedback is being collected online until Nov. 8 at gov.bc.ca/sunshinecoastfixedlink.
Some Sunshine Coast residents welcome the improved access a fixed link would bring, while others fear a deluge of increased traffic from the Lower Mainland, even though it's expected any new route would be tolled.
A technical report by an engineering firm is due later this year with more detailed findings on the options.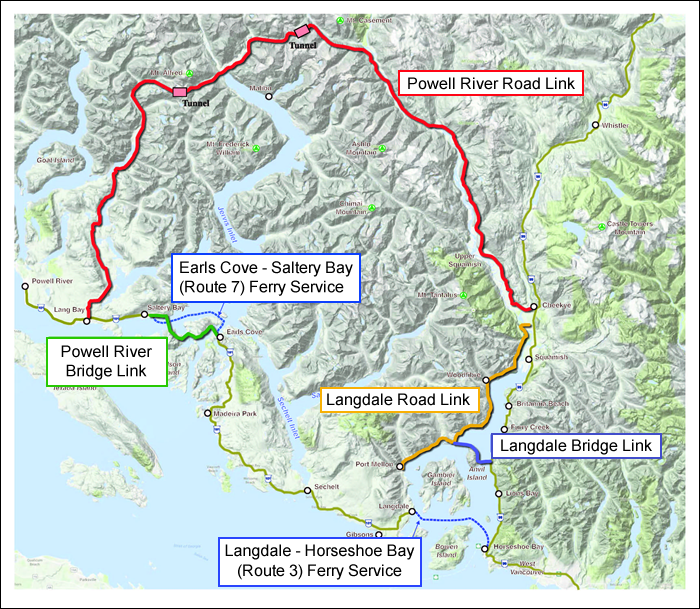 Four short listed routes.