It is unlikely the Golden Ears Bridge will rain down bombs of ice and snow on to motorists, as happened Wednesday on the new Port Mann Bridge, closing it for hours and freezing traffic.
"I've heard of no reports in the last three years of that occurring," engineer Bob Moore said Wednesday.
Moore, in charge of bridges for TransLink, says the Golden Ears and Port Mann, both cable-stayed bridges that cross the Fraser River, don't have the same architecture and geometry.
"The fundamental difference is there is a single, central pier on the Port Mann so all the cables actually splay out from that, actually across the traffic, across the deck, whereas all the cables on the Golden Ears, they just run up and down, lengthwise," as they do on the new Pitt River Bridge.
Any clumps of snow or ice that fall off Golden Ears cables will land to the side, possibly on the sidewalk, which wouldn't be good for pedestrians, he pointed out. But so far, that hasn't happened and the bridge is working like it should.
Moore compared the cables on the Port Mann Bridge to the strings of a harp.
"There are so many more cables on the Port Mann Bridge.
"There are relatively few on the Golden Ears Bridge."
Wednesday's debacle on the new Port Mann Bridge, part of the Hwy. 1 improvement project, snarled rush hour traffic after the bridge closed for five hours after ice fell on to vehicles below, injuring at least one and damaging about 100 vehicles.
"There was no way to get around it, there was no way to move – it looked like a meteor shower of snow," said Jared Angell, who got stuck on the bridge.
His work truck now has a spider web of cracks in the windshield and dents to the roof.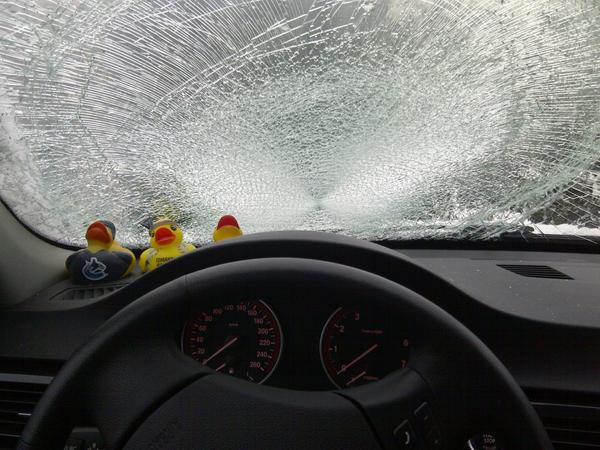 "I probably got hit at least 10 times," said Angell, of Abbotsford. "I wasn't nervous until the windshield shattered, then I started to get nervous. You're hoping another one doesn't hit the same spot.
"Someone designed it for Arizona or California, obviously, not for B.C.," he added. "I don't know how it got by that many smart people, but it did."
ICBC has said it will waive the deductible payments for motorists claiming for the damage.
Transportation Investment Corp. CEO Mike Proudfoot said engineers are assessing the bridge to determine what went wrong and what can be done to prevent recurrences.
Provincial officials aren't yet conceding the newly opened bridge, the centrepiece of the $3.3-billion Port Mann/Highway 1 Improvement Project, has any design flaws.
Moore suggested it could have just been freak weather, with blasts of heavy snow, that allowed snow and ice to build up on the plastic sleeves that encase the steel cables. The sleeves, also used on the Golden Ears, are intended to be slippery enough that snow and ice just slide off.
"We probably get some of the wettest snow, probably in the whole of North America."
It would be possible to wrap wires around the cables in order to heat them up and melt snow, but that would be a huge undertaking.
B.C. Transportation Minister Mary Polak and Proudfoot said Thursday that it's up to the contractor, Kiewit Flatiron, to come up with a solution — at no cost to taxpayers.
"This design for the bridge contemplates measures for the accumulation of snow and ice," Proudfoot said. "Those haven't been effective so the ball's back in the contractor's court to come up with a proper solution."
Said Polak: "We will be looking to the contractor to provide us not only with a long-term, permanent solution that ensures this never, ever occurs again but, also, an immediate fix to the problem so that the bridge is open and indeed safe for the travelling public."
They made no guarantees that weather conditions will not force another closure of the bridge.
The main union representing workers on the Port Mann Bridge wouldn't confirm whether its members had raised falling ice as a safety concern last winter.
Asked if the issue was recorded as a concern at health and safety meetings, Ironworkers Local 97 president Cecil Damery would only say: "Snow was an issue last year also."
Damery said he had to be "careful what I say" because the union works closely with bridge builder Kiewit-Flatiron.
Moore said TransLink will keep in touch with the Ministry of Transportation and Infrastructure and watch for any resolution to the problem.
"It's something we're going to monitor and study to see if there's any impact on the Golden Ears Bridge."
He added if there was a design problem with the Golden Ears, TransLink would look to the private contractor that built the bridge and with whom TransLink makes monthly payments on a 30-year private-partnership project.
But it's performing as it's supposed to so far.
Golden Ears was designed by Buckland and Taylor, a North Vancouver engineering firm.
"We're lucky we've got these guys in our back yard. They're world leaders."
– with files from Jeff Nagel