Teachers are going to be docked pay for their job action, as a partial government lockout has been put into effect.
If they go ahead with rotating strikes next week, as planned, they will lose 10 per cent of their pay.
The B.C. government is locking out teachers in response to their escalating job action, beginning Monday. A traditional lockout would prevent unionized employees from working. This one will restrict their work, and reduce their pay.
However, a full lockout would come into effect at the end of classes for most schools, on June 27, if no deal is reached.
The local teachers' union representative says the government's actions threaten summer school, the marking of provincial exams, after-school sports events and even graduation ceremonies.
"It's baffling," said George Serra, president of the Maple Ridge Teachers' Association. "I don't think they even realize what they've written."
A letter from the B.C. Public School Employers' Association, which negotiates on behalf of Victoria, addressed to B.C. Teachers' Federation (BCTF) president Jim Iker, outlines the government's plans.
It says that the locked out teachers will be docked five per cent of their salary, based on their present job action.
Teachers have been doing Stage 1 job action since April 22, refusing to meet with administrators or communicate with them electronically, or supervise students.
The government's lockout letter instructs teachers not to work during recess or lunch hours, and not to be at school more than 45 minutes before or after class time.
The latter is the prohibition Serra predicts will impact sports and grad ceremonies.
He said teachers are angry about the government's "goading" action.
"Absolutely we are – and I'm sure it's going to upset parents even more."
The government will dock teachers 10 per cent pay if they go to Stage 2 job action, which is planned next week. Stage 2 is rotating strikes, with Maple Ridge-Pitt Meadows schools scheduled to be closed on Tuesday.
Maple Ridge-Mission MLA Marc Dalton said the government's intent is not to impact grad ceremonies, field trips or sporting events. If teachers withdraw from these activities, it will be on the instructions of their union, he said.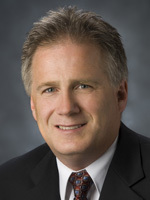 "We want a settlement as soon as possible. Parents deserve that, and students deserve that," said Dalton. "We don't want it to drag on. The objective to the measures we're taking is to achieve a settlement."
He said the government is compromising at the bargaining table. He noted that the government campaigned in the last election on a 10-year deal with teachers. It was a key bargaining position. Backing off that stance, to a proposed six-year deal, was "a big step back," he said. But the BCTF "brushed that aside."
Dalton said the union's pay demands, which the government pegs at 21.5 per cent in total compensation increases over four years, are "out of the ball park."
Stacy MacLennan is a parent who has organized parent rallies at the Maple Ridge and Mission offices of Dalton.
"I'm floored with the direction this has taken," she said on Thursday. "They are pitting parents against teachers."
The union is appealing the 10-per-cent pay cut to the Labour Relations Board, to see whether it is legal.
The government position is "reduced pay for reduced work."
Serra noted that teachers are already not being paid for the days they are on strike.
The government also said all union members will be locked out effective June 27, if an agreement is not reached. Serra said year-round schools, such as Kanaka Creek elementary, could potentially be closed down as an unintended consequence of the lockout.
"And this causes all sorts of anxiety about September," noted Serra.
The province's 41,000 teachers have been without a contract since June 2013.