Ashes of loved ones. Art handed down through generations. Family photos. Each of these items was destroyed and discarded by the Vancouver Police during street sweeps on the Downtown Eastside, homeless advocates say.
Lorna Bird, a board member of the Vancouver Area Network of Drug Users (VANDU) said she heard from a homeless woman who alleged Vancouver police threw away her mother's ashes, her brother's ashes and her uncle's ashes.
"When she told them what they were they said 'it's probably drugs'. They threw them into the garbage. Another lady, there was a picture of her baby with the footprints and fingerprints. They smashed it in front of her and threw it into the truck. It really hurts me that they do this because that's stuff that can't be replaced."
The practice of street sweeps is intended to keep sidewalks clear of garbage and debris so people can safely walk on sidewalks.
However, Pivot Legal Society, a Vancouver-based organization that advocates for marginalized people in the Downtown Eastside, is calling for an end to the practice of street sweeps saying they disproportionately target homeless people.
In a news release, the society said they witnessed officers and city workers dispose of people's personal property, including tents, tarps and rain gear provided by local charities.
These sweeps took place during the city's "Homelessness Action Week", which takes place from Oct. 10 to 17.
Meenakshi Mannoe of Pivot Legal Society said that city workers and Vancouver police changed their behaviour in response to outreach their group.
"We saw them leave the Downtown East Side three days in a row, driving away and not conducting the street sweep. Even though they did that, we still saw them taking people's belongings."
Pivot prepared an "invoice" to highlight the cost of the street sweeps. Mannoe said the teams include up to six city workers, two uniformed VPD officers and heavy equipment like pickup trucks and garbage trucks. Pivot also displayed the cost of items thrown away in street sweeps.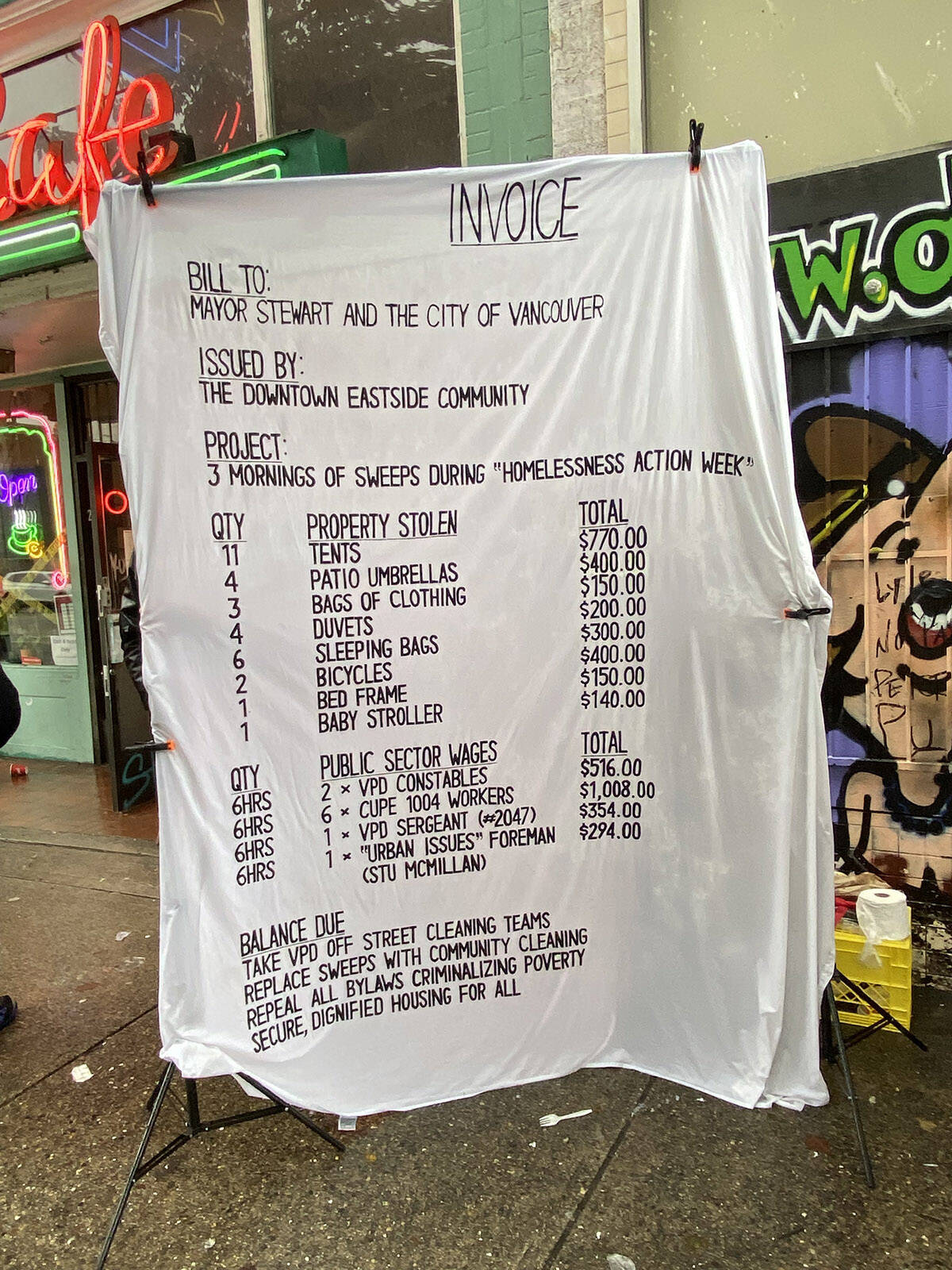 Alexandra Flynn, an assistant professor at UBC's Allard School of Law, said police are violating Charter rights of security of the person as they conduct their sweeps.
"If you don't have items that belong to you to keep you safe, dry and healthy, you will suffer on a day like today. That's what people are living with all the time," she said. "This is not just a matter of human dignity, this is a matter of rights. These belongings are people's property. They belong to them and taking them away is a form of theft."
VANDU board member Myles Harper, who has lived experience on the streets, said the public should be "disgusted" that this is happening in Canada.
"One of the things that most disgusted me was seeing the young people on the street — 16 years old, 15 years old — they're out there and they don't know that they have rights. A lot of them come from broken homes, foster homes. You think they really want to be out here on the streets? They want to be loved by people. They want to be cared about. We need everybody to care about them."
Pivot Legal Society is calling for the full removal of Vancouver officers from street cleaning teams, an end to the current practice and replacing street sweeps with community-led sidewalk cleaning programs, rescindment of bylaws that prohibit sheltering in public space and a repeal of the Safe Streets Act.
In response, the City of Vancouver said in a statement to Black Press that they are an "active participant" in Homelessness Action Week and that they provide grants to a number of non-profits working to address homelessness in the city. The City added that staff "do their utmost" to ensure personal belongings are not taken during street sweeps.
"Staff are trained to remove material that has been abandoned – not to remove items that are clearly personal belongings. We sincerely regret that personal belongings may have at times been mistakenly mixed in with the considerable amount of debris cleared from sidewalks each day," City of Vancouver communications manager Phoenix Lam said via email.
However, photos taken by Pivot show workers loading garbage trucks with tents and other personal belongings under the supervision of Vancouver police. Lam said police accompany crews so that staff can feel safe on the job.
The City said they are discussing with staff about a possible meeting with Pivot Legal Society to discuss their proposed solutions.
In an emailed statement, the Vancouver Police said people are notified on a daily basis that city staff will be clearing and cleaning sidewalks.
"If people are camped out or loitering in areas which need to be cleaned, they will be asked to move during the cleaning process."
---
@SchislerCole
cole.schisler@bpdigital.ca
Like us on Facebook and follow us on Twitter.
Want to support local journalism? Make a donation here.